Are you the owner of a sole proprietorship or an employee in a company who needs to view the company's mail on a mobile device? If so, you can create access between a private and business e-Boks to gain access to the mail.
You can always use the browser to log in to e-Boks Business, but it is also possible to access the company's mail in the e-Boks app via external access.
To gain access to the company's mail via the e-Boks app, you must follow the steps described in this article.
Note! You must have Administrator rights on the e-Boks Business mailbox to set up this access.
Table of Contents:
1. How to Create Access
Log in to e-Boks.dk Business from a browser.

Go to 'Menu' (circle 1).

Select 'Adgange (Accesses)' (circle 2).

Click on the button 'Giv andre adgang (Grant Access to Others)' (circle 3).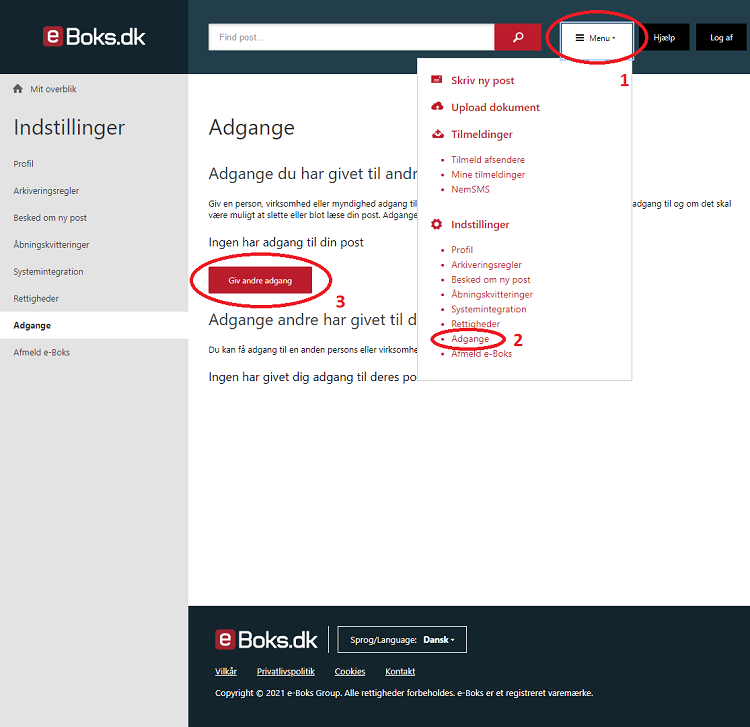 Now you will need to enter a series of details.
Enter the name and CPR number of the person you are granting access to.

Optionally, you can also select an expiration date and enter it. If you do not wish to have an expiration date, simply delete the pre-filled date.

Then click on the 'Next' button.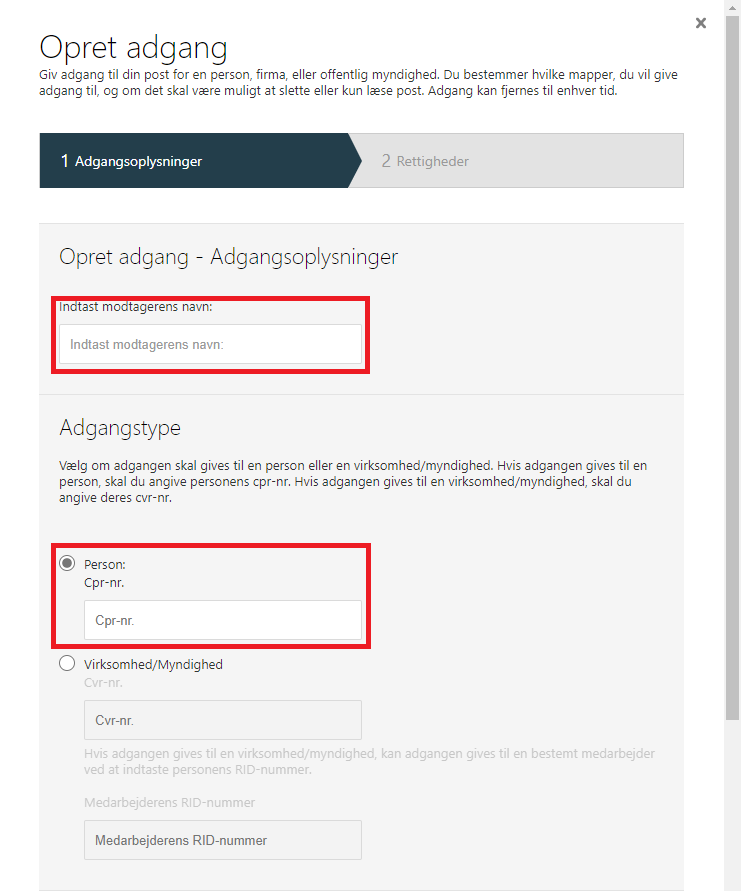 4. Choose the permissions you want the user to have and optionally which folders they should have access to.
If you choose the 'Reading/Læsning' or 'Editing/Redigering' permissions, you must select which folders the user should have access to, as indicated in the yellow field on the screen below.
5. Confirm by clicking 'OK'.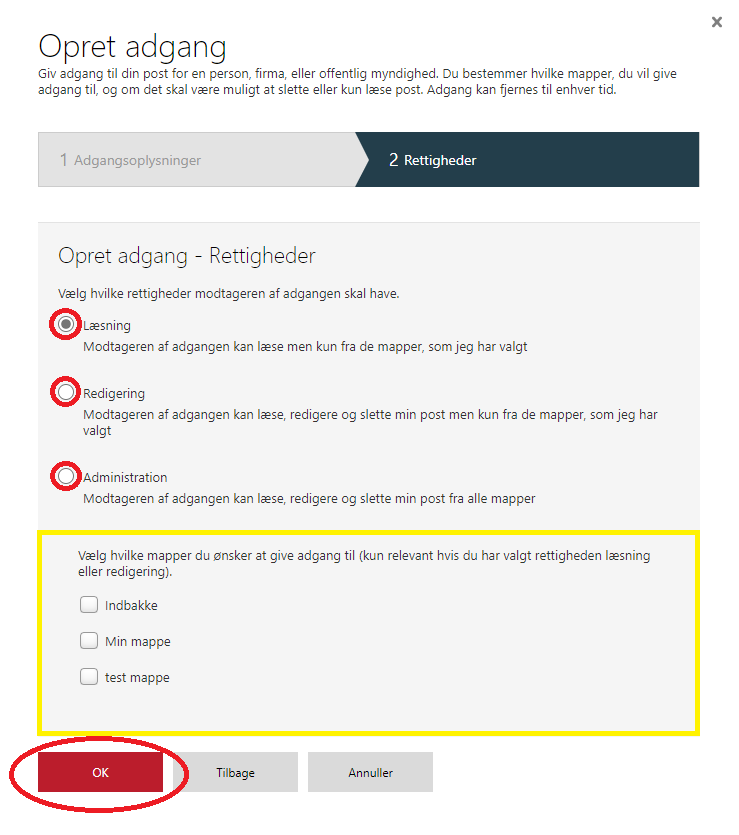 Note! Make sure to write down the password that appears. You will need this to accept the access on your private e-Boks.
2. How to Adapt Access
This only needs to be accepted by the person to whom the access has been granted. Note! This must be done via our website and not in our e-Boks app.
The access recipient logs in to e-Boks.dk with MitID.

In the overview, click 'Accept' in the notification about new access.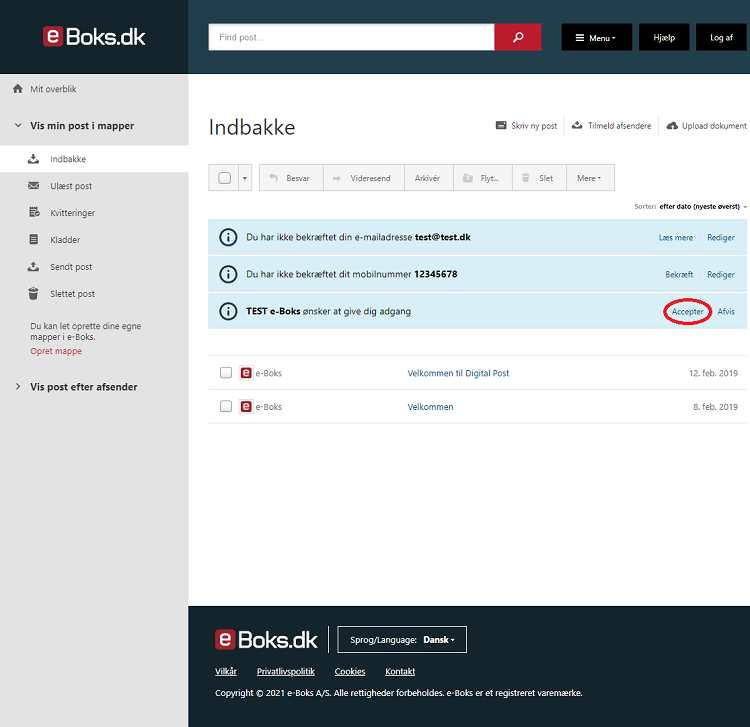 3. Enter the password that you were given when you created the access.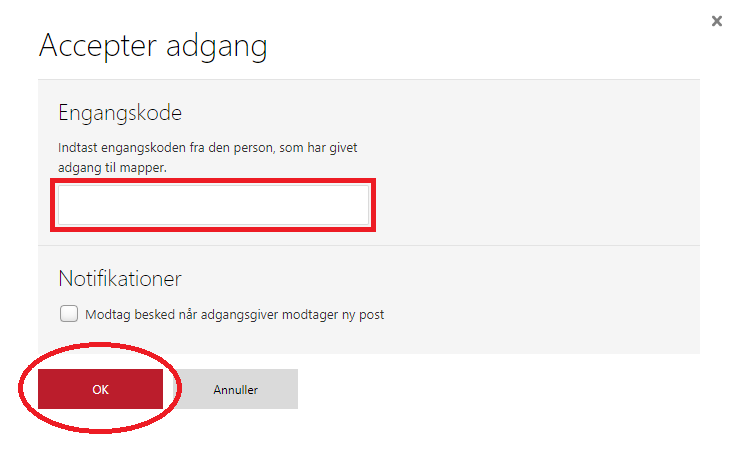 4. Click 'OK'.
You have now created and accepted the access.
3. How to Access in Our App
1. Log in to the e-Boks app on your private e-Boks.
2. Click on 'Mail' at the bottom of the app, then on the small folder icon in the upper left corner.
3. Click on 'Shared with Me' / 'Delt med mig'.
You can now choose whether you want to view the mail in folders or by sender by clicking 'All Folders/Alle Mapper' or 'All Senders/Alle afsendere'. Once you have made one of these selections, you will be able to see the mail sorted in the way you have chosen.